Painting without masking …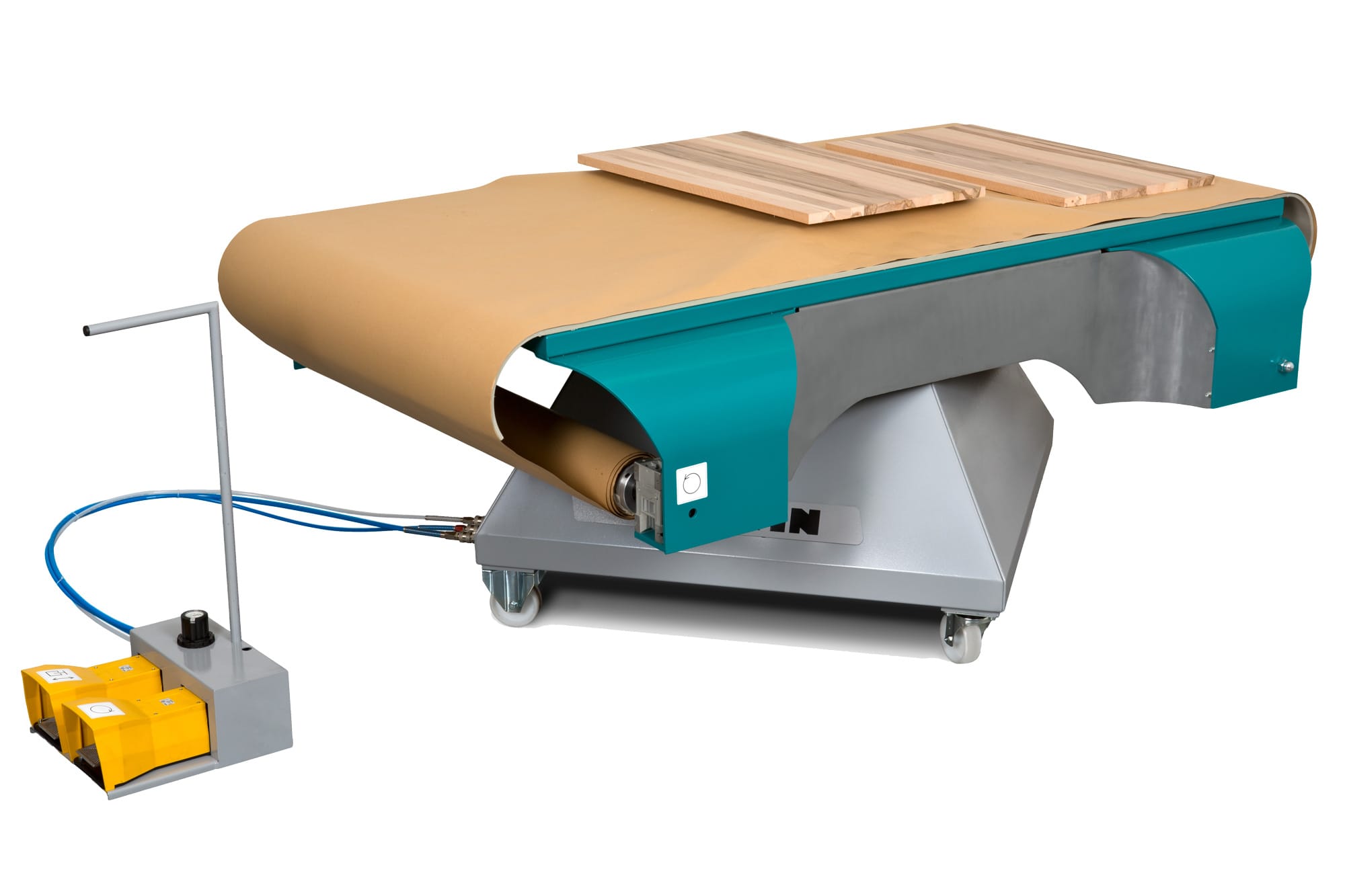 MARTIN presented the new speed 20/10 painting table, a practical solution for time-saving painting of small and large work pieces, for the first time at the Nuremberg Wood Craft Fair. Time-consuming protection of the surfaces that are not on top from paint aerosol deposition can be avoided with this table.
Demanding paint work is often associated with time-consuming and therefore expensive masking and subsequent cleaning work. This is always required when the already completed paint surfaces may not be spoilt by paint aerosol deposition during the final paint application. Paint plants solve this challenge by placing and transporting the work pieces on sheets of paper.
The concept of the speed 20/10 is therefore not new, but it has thus far not been implemented to suit craft requirements: Undesirable paint aerosol deposition is no longer prevented by masking the work pieces. Instead, they are placed with the side that is to be protected onto a flat table surface covered with packing paper. Once the painting process has been completed, the pieces are either pneumatically lifted off or they are moved off the table by the pneumatic drive of the paper roll. The paper moves over an antistatic, special plastic cover. A new, clean work piece surface is recreated within seconds after every painting process. The table can be quickly and easily turned by 180° during the painting process to allow the painter to work in a fixed position.
The pneumatic lifting elements and the advance of the paper are controlled with foot pedals. Rolling up the paper is also performed pneumatically, so that the table can work entirely without an electricity supply. The painting table is therefore particularly well-suited for use in environments with an explosion risk. The paper surface is kept under permanent tension, but the rolls can be quickly exchanged without tools.
The work table provides noticeable relief during painting operations and has significant savings potential, as the preparation and follow-up work for painted work pieces is reduced to a minimum. This product again shows that perfect interaction of user-related problem awareness, technical knowledge and solid machine engineering provides a high-performance solution for the user.